About Taylor Made Container Homes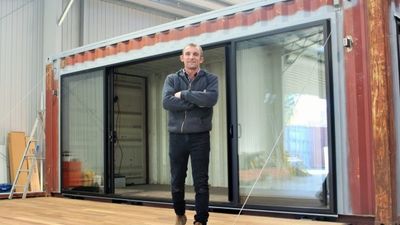 Taylor Made Container Homes operate out of Cromwell, creating prefabricated container homes that are transportable across New Zealand for a wide range of purposes. From tiny homes to orchard worker accommodation, pop up kitchens, or modular office blocks, Darryl and the team at Taylor Made Container Homes have worked with a wide range of clients across the country. Working with Taylor Made Container Homes has its advantages, unlike other builders, Taylor Made Container Homes are all made under cover – so that when the weather is bad, work for them doesn't stop. This makes it easier for Darryl and his team to meet client deadlines.
Unlike other builders in the industry, Taylor Made Container Homes work closely with their clients ensuring their container houses meet the code of compliance and consent with local body councils. They work with their clients throughout the process from design, to build, consent and delivery. If you're looking to build your own container home, Taylor Made Container Homes also sell shipping containers. To learn more about the process, check out our recent shipping container house projects, or our gallery.
Always happy to have a chat and discuss your ideas, contact Darryl direct on 027 923 7039 or send through an enquiry.
Darryl Taylor designs and builds shipping container homes.
By his own admission, Darryl Taylor stumbled into the business of designing and building container houses. A panel beater and painter by trade, he hit on the container home idea after he and his wife Bernice moved in together and needed storage space as well as a spare room. As he is quick to point out he is not an engineer but has always liked making and building things.
The original container prototype was half storage and half comfortable spare room. Soon after, Darryl was approached by someone from Blenheim asking if he would build one for him, too. More enquiries followed, and Darryl and Bernice moved to Cromwell from Invercargill to set up their budding modular container home business.
Darryl personally oversees each project and works closely with clients ensuring they get exactly what they want, whilst taking care of all the pesky legal paperwork around container home building consents and code of compliance.